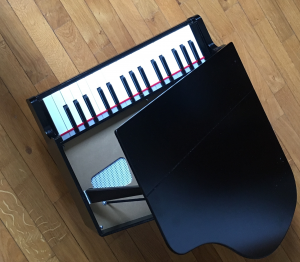 In 1948 John Cage was the first composer to use the toy piano in serious contemporary musical contexts writing his Suite for Toy-Piano.
Since then this small instrument has appeared on stages all over the world, and it never ceased to fascinate the public and the composers.
It is a miniature grand piano, perfect in all its details, and its silvery voice, similar to that of a carillon, makes it unmistakable.
But what happens when you combine the toy piano with other instruments? We tried this and we have conceived this project for flute and toypiano. In all its incarnations, from the alto flute to the piccolo and to the small slide whistle, the flute joins the toypiano playing a great variety of pieces, ranging from new original compositions, commissioned for our ensemble, to arrangements and transcriptions of ancient and modern masterpieces.
Making music with a toy piano is an invitation to play music together.
That's why we have rediscovered an eighteenth-century musical game, Musikalisches Würfelspiel, in the version attributed to Mozart. During our concerts we invite the public to compose with us Walzer and Minuetti "through the medium of two dice without the least knowledge of music or of composition".